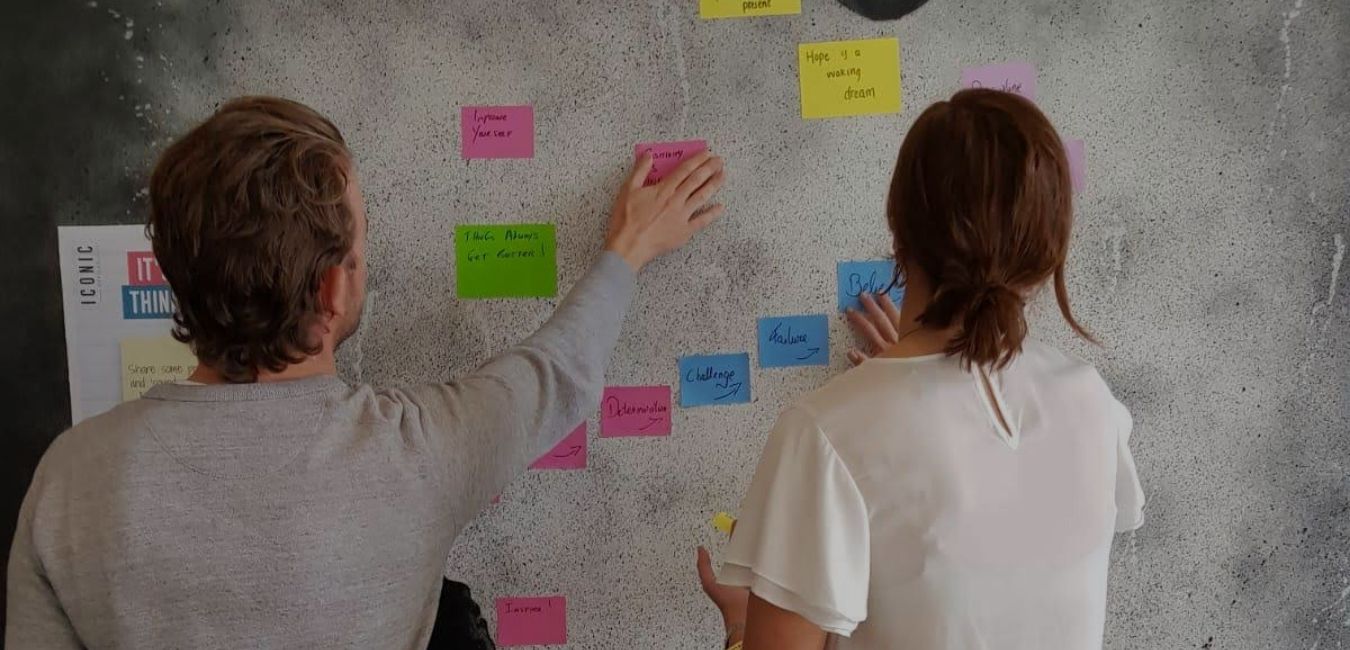 A sustainable alternative to flipcharts and sticky notes that's fun to use and saves you time and money.
Get started
Innovative electrostatic technology.
Our products are made from electrostatically-charged, 100% recyclable film. They stick completely flat to any smooth surface without glue, so your ideas are always visual. No risk of residue or damaging surfaces, and will stay up without falling off for several months or more in most environments - saving you from 'sticky note confetti' fustration! Perfect for workshops and meetings, around the offices or at off-site locations.
Saves you time and money
No more cutting bits of tape or using tack to stick flip charts on walls. And no more wasting time struggling to get tack or tape off the wall at the end of the workshop. Faster to apply and move around the wall. Absolutely no risk of damaging walls, therefore eliminating any nasty redecorating bills!
Made with the environment in mind.
Our notes and sheets are made with the environment in mind. They're made from 100% recyclable polypropylene. As less notes fall off, they create less waste overall. Our notes are semi-reusable; the colour side is not erasable, the white side is erasable.  Our whiteboard and clearboard sheets are completely erasable and reusable.
Static Notes Medium 100x70mm. Pack 6, assorted colours.
Stick completely flat to virtually any surface using static electricity, so no glue. Slide each note around - much faster organising compared with standard sticky notes. 100% recyclable polypropylene.
Myndflo Static Notes are great for tasks, notes and ideas, and are a great visual aid for your planning, creative or problem solving meetings and workshops. Designed to increase efficiency and effectiveness. Faster and more engaging.
VIEW PRODUCT
RECENT FEEDBACK FROM OUR CLIENTS
A very good product. The group where I first used them were fascinated. They were easy to use, really flexible and encouraged people to write on them just so they could put them up on the wall and slide them around. Very engaging.
I love Myndflo products for running my workshops. The electrostatic notes are brilliant as you can easily move and slide them to group and organise without falling off or curling up. Using the whiteboard sheets is an absolute time saver as no need to use Blue Tac and tape to hold sheets up, and no risk at all of ruining walls! Highly recommend.
Myndflo's A1 whiteboard sheets are not only brilliant portable whiteboards they are also super-effective paper magnets allowing you to stick everyone's doodles, insights and summaries on the wall without any damage or residue whatsoever. This makes it very easy to create visual journeys in any kind of workshop. The static notes have all the benefits of post-its but the significant added advantage that they adhere across the whole sheet, they slide readily and are easily re-positioned, and they seem stick to practically anything! I have been using Myndflo products throughout 2019 and I am very, very happy with my choice.
designed to increase interaction, improve experiences and make great ideas happen.